Nugan Estate is dedicated to producing premium wines from specially selected vineyards located in the Riverina, King Valley, Langhorne Creek, McLaren Vale and Coonawarra regions. These are widely recognised as some of Australia's best known wine producing areas.
Nugan Estate is a top 20 wine producer and one of the top 20 exporters of branded wine in Australia. The story of Nugan Estate spans over 80 years, three generations, and displays determination, passion and grit. In 1938, Alfredo and Annelise Nugan fled their home village of Alcira, Spain and migrated to Australia. As immigrants they brought with them aspects of European culture including the enjoyment of wine.
Dedicated to the European family history, The Alfredo Series embodies a passion for traditional Italian winemaking techniques and styles. The Cookoothama range provides quality wines that consistently over deliver on value. The Personality Series is a premium Single Vineyard range encapsulating the characters and history of Nugan Estate. Talinga Park and Third Generation ranges, take advantage of Nugan Estate's premium wine making practices, providing the consumer with superior quality wines at an attractive price.
The Nugan Estate team are dedicated and proud global distributers with our wines not only found across Australia but also in many countries around the world.
Nugan Estate is committed to minimising their carbon footprint by adopting several environmentally sustainable practices. Uniquely designed, the entire winery is indoors reducing the environmental impacts and reducing temperature fluctuations. Nugan Estate are dedicated to this cause, filtering their own water for use in the winery. Waste water is then recycled and used in the garden. As a family owned and operated company, the goal is to build a sustainable company for future generations.
Nugan Estate has been recognised as one of Australia's best Winemakers having been awarded 44 trophies and counting. The family passion for producing quality products remains strong and Nugan Estate continues to be a true Australian success story and a thriving business.
Chief Winemaker, Daren Owers, started his journey at Nugan Estate in 1996, just three days after completing his Food Science degree at the University of Western Sydney. Daren started as a lab technician in a Nugan family related company, and in 2002 took on the challenging task of Chief Winemaker at Nugan Estate. Since then, Daren has continued to create Nugan Estate wines of the highest quality.
Family Matriarch Michelle Nugan, instilled in Daren a strong work ethic, clear focus and the expectation of excellence. As a result, Daren has achieved quite the Trophy Cabinet with 44 Trophies and 1,500 medals, which includes 204 gold medals awarded both Nationally and Internationally. Daren has received widespread recognition for his winemaking skills, including The Wine Society's Young Winemaker of the Year (Members Choice) in 2004 and more recently becoming an AWAC Scholar, awarded Dux (Equal) of AWAC #28 in 2009. He remains focused on crafting the wines of great finesse, showcasing true regionality from each vineyard.
Daren sees winemaking as his art and considers himself a lucky man, dabbling with the best of both worlds. Daren articulates the art and science of winemaking with elegance and ease, saying the best wines are made vine by vine, berry by berry.
The monumental Nugan Estate Barrel Cave was built to the inspiring vision of Michelle Nugan in 2001. Every single remarkable element in this space, from the treatment of the floor, the roughed up concrete pillars to the grand and striking huge double doors were built specifically to design.
The structure of the Barrel Cave, situated underground in the main building of Nugan Estate, provide a naturally temperature-controlled space. This area acts as an excellent storage facility for our premium wines while they undergo maturation in quality French and American oak barrels. This stunning space is a testament to the wines and the hard work that is put into every drop.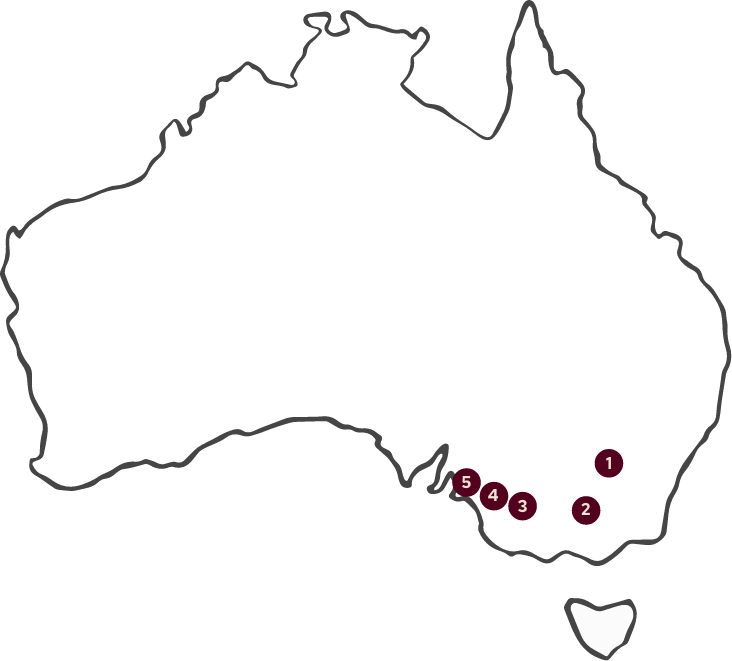 Riverina
The Cookoothama vineyard is located on the banks of the Murrumbidgee River in the beautiful Riverina.
King Valley
Located on the northern slopes of Victoria's Great Dividing Range is cool climate King Valley. Long, warm Summer days and cool nights produce fruit of optimum ripeness and flavour.
Coonawarra
Coonawarra, renowned as the home of Australia's best Cabernet Sauvignon with its unique Terra Rossa soil.
Langhorne Creek
The wind coming off Lake Alexandrina maintains the cool maritime climate in Langhorne Creek.
McLaren Vale
The birthplace of wine in South Australia, with a Mediterranean climate and free draining soils. Perfect for the production of high quality Shiraz.
In 1938, Alfredo and Annelise Nugan fled their home village of Alcira, Spain and migrated to Australia. As immigrants they brought with them aspects of European culture including the enjoyment of wine.
By 1940 Alfredo was selling locally produced seasonal fruit and vegetables in Griffith and built a reputation for his quality produce. It was a difficult period and Alfredo subsidised his income by working in wineries during Vintage. Soon after this Alfredo and Annelise purchased their first vineyard in Nericon. They were honoured when a road was named after their family, Nugan Road, which now leads you to their old farm in Nericon.
Alfredo pioneered farming innovations with an automated carrot harvester and mechanised grading equipment, increasing their capacity to pack premium produce. During World War II, Alfredo supplied small and large accounts including G.J. Cole. He also supplied General McCarthur's troops, delivering produce beautifully presented in delicate wooden boxes. Future development led to Alfredo supplying both domestic and export markets.
In 1965 when Alfredo and Annelise retired, Ken Nugan their son took over the family business. Ken continued the family tradition of supplying quality fresh produce to export markets, supermarket chains and produce markets in Australia, and expanded the family business.
Ken inherited Alfredo's love of innovation, being the first to introduce and utilise computerised optical sizing, grading and automated soft touch packing machines for citrus in Australia.
Ken built a modern juice factory utilising previously discarded oranges. He was a market leader in the produce and juice industry, producing orange, lemon and grape fruit juice and oils. Ken produced other premium juice products including Apple and Pear.
In 1986 Michelle, Ken's wife, took control of the family business when he passed away unexpectedly. During the 1980s recession, Michelle led the business through a renaissance, re-affirming it as an Australian success story at a time when agribusiness was struggling. The family business developed premium apple, pear and carrot juice for export to Japan and pioneered the development of carrot juice containing no artificial colours or flavours. This innovation lead to the Nugan juice plant becoming the largest producer of carrot juice in the Southern Hemisphere.
During this period the family acquired further agricultural holdings for both fresh fruit and grapes. As recognition of her achievements, Michelle was named Telstra Business Woman of the Year and Ernst and Young 1996 Entrepreneur of the Year.
Nugan Estate completed their first commercial vintage in 2000. The family built a state-of-the-art winery that was completed in 2002, sourcing wine grapes from premium vineyards in the Riverina, King Valley, Langhorne Creek, Coonawarra, McLaren Vale, and Wrattonbully regions.
Today, Nugan Estate is owned and operated by Alfredo and Annelise's grandson, Matthew Nugan. Matthew maintains the family traditions and shares their passion for good wine. Matthew has been integral in the growth of the family business since 1984.
80 years on, Nugan Estate remains family owned and operated. Alfredo's generous spirit lives on with Nugan Estate and one of their partners jointly contributing to the funding of building 11 preschools in Africa. This is an ongoing project. Their philosophy of hard work, innovation, and commitment to the future is reflected in 44 trophies and over 1,500 medals.
"The best wines are made vine by vine and berry by berry"
Daren Owers, Chief Winemaker